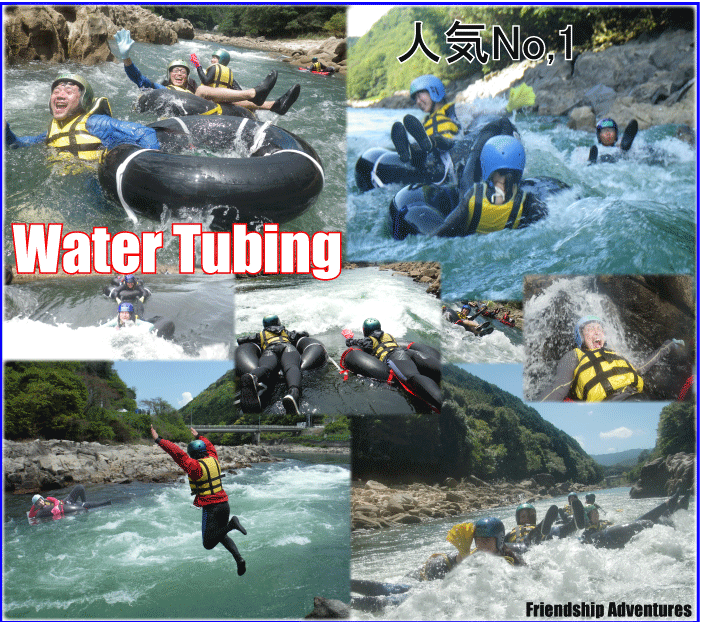 You can try this exciting Water tuing only here in Kansai!

Water Tubing is a river sport that is experiencing an explosion in popularity. You can't do this anywhere else in the Kansai area! Come enjoy the action and thrill that is tubing!

The meeting place in Shiga prefecture is at the Seta River ? the only river flowing from Lake Biwa, so there's a lot of water! First we will do some training, such as how to change direction and flip recovery, and we will also play a "Tubing Challenge". While we're doing that, we draw nearer to the exciting part...the rapids!
When water tubing, the water surface is right beneath you, so you get to feel the full force of the waves!

Access is very easy from the Kansai area, and it's great for anyone thinking about going on a daytrip!

Movie of Water tubing!
---
Please come to the Base Camp at the Seta River by the scheduled time.
※ Registration will commence from 15 minutes before the scheduled meeting time.

All participating guests will fill out the necessary forms and change into bathers etc. After changing clothes, the equipment to be used on the tour will be distributed.
When everyone has arrived, our company car will come to pick up everyone and take them to the start point.
After we arrive at the start point, first we will go through procedures for safety, how to use the equipment, how to recover after being flipped over etc.
After the explanation we jump in the river and do some practice!
After practicing we slowly float down the river playing games as we approach the rapids!

Before long we will reach the rapids! You might be spinning a lot, so hold on tight! The water's surface is right beneath you so you get to experience the full force of the river! If you don't want to flip over, try to avoid the big waves; on the hand if you want to try to flip over, try crashing through them!

If you can't get back on your tube by yourself, the group guide will help you.
After we pass the first waves, it's calm again until the next set.
We can also join together and take on the waves together!
After the rapids, the river basically becomes calm again.
As we repeat the game from earlier, we head towards the finish point.
After the tour has finished, we will take a commemorative photo.
From the finishing area, we will return by car to the gathering place. After changing clothes the group breaks up.
After the tour, the photo we took can be downloaded from the website. If you don't want your photo to appear on the website, please inform staff.<m(__)m>
Cost
開催期間は4月1日〜11月末まで毎日開催♪

Apr-June・Oct-Nov

5,800yen

BUT! all season will be just 5,500yen! for Adults
Youth is 5,000Yen
Adults =over 19years old
Youth= 16-18years old
(only people from other countries)


July to Sep

6,000yen

Obon term
(8/7〜15)

6,300yen

What's including

Guiding fee, Gear rentals, Insurance, Tax are included

Payment method

Cash or following credit cards can be used.

Credit card
QR payment
About credit card

Payment with the above cards is possible. However, only two cards can be used per group. We also accept by cash. Thank you very much.

Vacancy info
Vacancy information
If there is no vacant of your date, feel free to inquire once, please.
we might have extra sheet. FAQ of Seta river Rafting
Meeting time

AM Tubing  9:30 - 12:00(Break up) 

PM Tubing 13:30 - 16:00(Break up)

Meeting place
Friendship Adventures, Seta river base
A changing room for man and woman, the vending machine, the flush lavatory, and the parking are free.
Access
Seta river base
Important

Please notify us the name of the hotel you will be staying in the day before the tour. We will email you indications on how to access from your accomodation to the meeting place.

e.g) If your tour date is June 15th, we need to know your accommodation as of June 14th.

Please input your accommodation name and address to the "BOOKIG FORM".

If there is not input your accommodation name to "BOOKING FORM" we are sorry that we can not accept your booking. But if you have not decided your accommodation yet, please input to "Other" of booking form. then please let us know after booking your accommodation. but if you are not inform us accommodation name 10days before of your tour date, your tour will be cancel.

Also, please input your email address which can check while you are in Japan.

Conditions
From 16first year High School students to 55 year olds who are healthy in mind and body.
(Those under 18 years old must have the consent of a guardian)

*Important*
Please understand that there are some limitations on participant eligibility. Those whose

height is under 160cm and plus weight is over 100kg(= obese body)

may not participate in the tours due to problems related to rescue procedures. Also, those who are pregnant, have health issues, or heart problems should refrain from participating in the tours.
Minimum
There is a minimum of 3 participants
(If there are not enough participants 3 days before the event, unfortunately the the event will be posteponed. In that situation, participants will be contacted by phone or email and the tour fee will be refunded in full).
we provide following options.

Rental shoes

You don't need to bring your wet shoes back to your house anymore!! You can rent a river shoes!! 300yen/shoes from 22cm to 29cm



BBQ
Reservation system





Let's enjoy BBQ after exciting tour!





■BBQ equipment rental: 1,000yen/per *Available more than 3people
You can bring foodstuff whatever you want. please bring by yourself.
Including: Table, Bench, BBQ stove, BBQ net, Charcol, Chopsticks,
Paper plate, Paper cup, Tong, Cutting board, Kitchen knife, etc.
We will keep your foodstuff in the refrigerator.

■Basic BBQ set: 3,000yen *Available more than 5people.
Beef, Pork, Vegetables, Onigiri, BBQ sauce, and BBQ equipment.
*please book at least 5days before of your tour date.
*this set comes from the supermarket.

■Ohmi beef BBQ set: 4,000yen *Available more than 5people.
Beef, Pork, Vegetables, Onigiri and BBQ equipment.
*please book at least 5days before of your tour date.
*this set comes from the Ohmi beef restaurant.

*Please order 5 days before for Basic BBQ and Ohmi beef set
*Weekend of August and Obon season are not available.

Important:
We accept these BBQ for lunch. (after morning tour).


This is Ohmi beef set. there is no pic of Onigiri.


===  Notice ===
Because of the increase of the water level, we sometimes change starting time for 30 munites to a hour. Also, if the water level is too high, we might cancell the tour or the tour time becomes shoter than usual. In case the situation occur, please understand that we deal with nature sport.We appreciate your understanding and cooperation.
===  Notice ===
Please understand in advance that during the busy season of August and September, it may at times take several days to reply to applications. We apologize for any inconvenience this may cause.
Before making reservation, please check availablity on the information page.

About Cancel←Please read it before book.
Booking request
※日本人の方は必ず日本語サイトからお申込み下さい。
同行者が外国人の方の場合は、日本語お申込みサイトにてその旨ご入力下さい。
[top page]
■Information
Please do not drink any alcohol before the tour
.
Our location
Where are we? ←Check
Train:
From Kyoto sta, to Ishiyama=13mins
From Ishiyama, by Bus:
From Ishiyama to our place=20min
s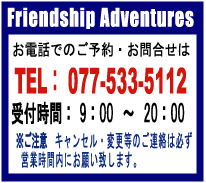 ■We provide
□PFD (Life vest)
□Helmet
□Wet suit (only cold season)
□Wet jacket(onlu cold season)
□Rafting gear


■What you bring
□Swim Suit
□Short Pants
(Wear above Swim Suit (only female)
□Shoes
(we don't let people use the foot wear which doesn't hold a heel. Aqua shoes, Old shoes are also OK)
□T-shirt of Chemical Fabric
(if do not have it, normal one also ok)
We reccomend rong T-shirt for Water tubing, because your arm might scrape with tube.
□Swimming goggle
(necessary for contact lens user)
□Glass holder
(If you wear Galsses)
□Towel
□Copy of your insurance policy.
(you can join the tour if you do not bring it, it is just in case)

Notice: Long pants are prohibition
■Rental gear
□Rent a river shoes \300
(from 22cm to 29cm)
□Glass holder \100

■What can you buy
□Towel \250
□Drinks

Half day trip
Whitewater rafting
Water tubing
River bugging
One day trip
River combo
Ultimate combo